01st July 2022
How To Specify The Correct Castor For Your Application?
Here at Indifit Ltd we stock over 30,000 different castors and wheels ranging from light duty furniture castors up to heavy duty industrial castors.
We have created the below guide to help you choose the correct castor for your application, but we are also more than happy to assist you should you have any issues. Most important information required are the below.
Information you will need to specify the correct castor:
Wheel size
The diameter of the wheel required.
Fitting type
Plate mounted, single bolt hole, stud fitting.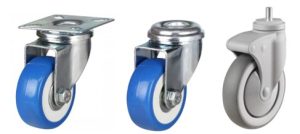 Frame Type
Swivel/Swivel braked or fixed frame.

Weight Loading
Our castors range from a weight loading of 35KG per castor up too 7000KG per castor. We always advise to factor in a margin for error, so we often suggest you spec castors with approximately 25% more than expected.
Example – Working out the weight limit for your castors*:
A trolley with 4 castors on taking approximately 500KG
500KG divided by 3 (3 instead of 4) = 166KG per castor.
*Please Note: This is only a guide for weight loading. Other factors may also need to be taken into consideration such as: Floor type, kerbs, environment etc
Wheel Type
We offer a huge range of wheel materials depending on your application including non-marking rubber tyres, polyurethane, blue elastic, nylon and cast iron to name a few.
For rough ground, we would usually suggest a polyurethane tyre as this would allow for a smoother ride on such surface.
Alternatively, our non-marking rubber tyre would be a great option should the castors be used in an environment such as a gym or school to prevent damage to the floor.
Browse Our Range of Castors and Wheels
Talk to us about castor product suitability
Should you have any questions regarding the above information or would prefer us to assist with specifying the correct item for your application, please contact our sales team who would be more than happy to assist.
Back to news